Jacuzzi
Jacuzzi® J-335
Price

12.990 €

Pay monthly

330 €
A jacuzzi with a nice relaxing hydro-massage which also provides therapeutic effects. Water currents stimulate the production of endorphin – the small creators of welfare – that your body takes advantage of in many ways. This excellent Jacuzzi J-335 is one of the best in the series that can bring you most benefits. -FX10 therapy seat is designed to conform to your body, and with the precision-FX jets you can adjust the power to what you want and need. This model has four seats and a lounger.
The Jacuzzi J-335 features are adjustable lighting system, backlit cup holders, two valves to adjust the power of the jets, illuminated and adjustable neck pillow and a waterfall.
Jacuzzi® J-335
Technical information
SIZE

213 x 13 x 91 cm

WEIGHT BEING EMPTY

368 kg

CAPACITY

1249 liters

PUMP POWER

2kw + 2kw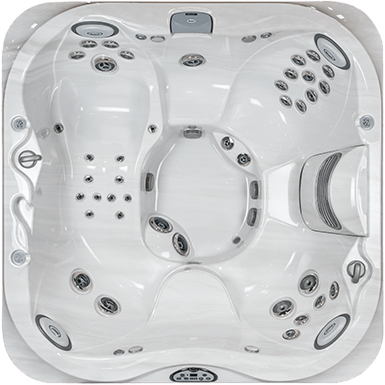 NUMBER OF PEOPLE

5 (1 lounges)

JETS

40

HEATER POWER

2,7kw

ELECTRICAL CONNECTION

2x16A
Reliable partner
AAA-raiting
10 years of experience
More than 2000 delivered spas
Solution provider
Regonized brands
For outdoor and indoor use
Versatile selection
Service promise
Professional team
Service & technical support
Webshop & store
The biggest showroom
30 models on display
Accessories & spare parts
Come and test our spas & sauna
Jacuzzi® J-335 features
Technology
Jacuzzi® thermal cover
TriFusion ™ special hard shell cover with Microban treatment
Smartseal ™ insulation
Health
ClearRay® disinfection
The massage-PowerPro®
Proclear ™ filters
Lighting
Illuminated neck pillows
Lighted coasters
ProLite ™ Lighting Systems
LED floodlit waterfall
Core
Filter and heating system
Three year warranty on spare parts
Full Foam Insulation
10 year warranty
Get in touch
Pro Patio Oy on ulko- ja sisäporealtaisiin, uima-altaisiin ja kylpytynnyreihin erikoistunut AAA-luokitettu yritys. Meiltä saat laadukkaat altaat kaikista koko- ja hintaluokista, maailman johtavilta valmistajilta. Myös allastarvikkeet ja huolto kuuluvat palvelutarjontaamme.
Myymälässämme on näytillä lähes 30 poreallasta, kylpytynnyreitä ja uima-altaita.
Laajasta allasvalikoimastamme löydämme yhdessä varmasti myös Sinun toiveisiisi sopivan altaat. Voimaa vedestä!
Contact details
ADDRESS
Laastikuja 1, F1-01720 Vantaa, Petikko
STORE
MAINTENANCE