Jacuzzi
Jacuzzi® City Spa
Price

13.900 €

Pay monthly

282 €
Jacuzzi City Spa – brings elegance to your home
Jacuzzi City Spa takes you to another dimension with the Wellness experience at home. This jacuzzi combines the latest trends in design and technology to provide a great Spa experience in all aspects. It includes two comfortable seats and precision jets located at an angle of 30 degrees – with these measures and features you can enjoy a relaxing experience in just 2.4 m2. The compact size makes it more minimalist in design and light in structure, therefore it can be installed anywhere. The jacuzzi is ideal for homes, small hotels or wellness centers. The hot tub can be installed both as free standing or embedded.
Jacuzzi® City Spa
Technical information
SIZE

160 x 150 x 75 cm

WEIGHT BEING EMPTY

220 kg

CAPACITY

570 liters

PUMP POWER

1.5 kW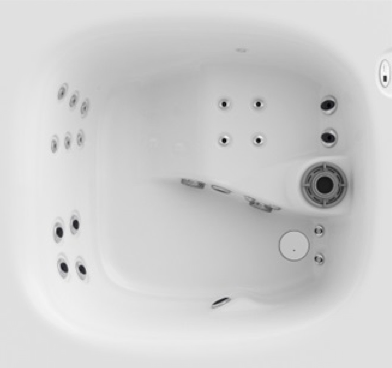 NUMBER OF PEOPLE

2

JETS

20

HEATER POWER

2 kW

ELECTRICAL CONNECTION

16 A
Reliable partner
AAA-raiting
10 years of experience
More than 2000 delivered spas
Solution provider
Regonized brands
For outdoor and indoor use
Versatile selection
Service promise
Professional team
Service & technical support
Webshop & store
The biggest showroom
30 models on display
Accessories & spare parts
Come and test our spas & sauna
Jacuzzi® City Spa features
Technology
Jacuzzi® thermal cover
TriFusion ™ special hard shell cover with Microban treatment
Smartseal ™ insulation
Health
Antimicrobial filters
The massage-PowerPro®
ClearRay® disinfection
Core
Filter and heating system
Seven Year Guarantee
Get in touch
Pro Patio Oy is an AAA-rated company specialized in outdoor and indoor pools, swimming pools and hot tubs. Get high quality pools from all sizes and price ranges, from leading manufacturers worldwide. Pool supplies and maintenance are also included in our service offering.
In our store, there are nearly 30 whirlpools, hot tubs and swimming pools.
From our extensive range of pools, we will surely also find pools suitable for your needs. Power of water!
Contact details
ADDRESS
Laastikuja 1, F1-01720 Vantaa, Petikko
STORE & MAINTENANCE