Jacuzzi
Jacuzzi® J-575
Price

25.990 €

Pay monthly

655 €
Innovation in your hands.
You have never seen a spa like the Jacuzzi J-585. The outside in Curvalux ™, resistant to atmospheric agents, reminds you of the interlaced garden furniture lines, enhanced by the warm glow of the new outer corner lights.The internal multicolored lights behind the double waterfalls produce a magical combination of aesthetic and acoustic details. In addition, the hidden system of pressure clips for opening the maintenance panels blend in with the beautiful design. Made with that level of quality that characterizes the Jacuzzi® brand, the J-500 ™ Collection is not just a design element, but an authentic hydromassage experience.
Jacuzzi® J-575
Technical information
SIZE

231 x 231 x 92 cm

WEIGHT BEING EMPTY

407 kg

CAPACITY

1685 liters

PUMP POWER

2kw + 2kw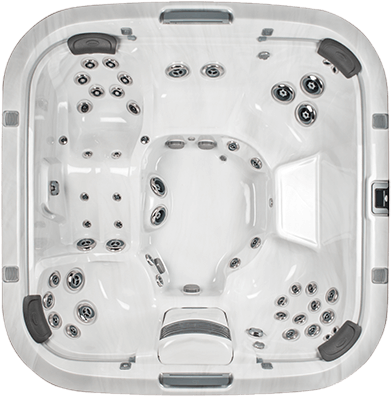 NUMBER OF PEOPLE

5 (1 lounges)

JETS

56

HEATER POWER

2,7kw

ELECTRICAL CONNECTION

3x16A
Reliable partner
AAA-raiting
10 years of experience
More than 2000 delivered spas
Solution provider
Regonized brands
For outdoor and indoor use
Versatile selection
Service promise
Professional team
Service & technical support
Webshop & store
The biggest showroom
30 models on display
Accessories & spare parts
Come and test our spas & sauna
Jacuzzi® J- 575 features
Technology
Bluewave ™ music system standard
Jacuzzi® thermal cover
ProTouch ™ touch screen
TriFusion ™ special hard shell cover with Microban treatment
Health
ClearRay® disinfection
Proclear ™ filters
Curvalux ™ maintenance and care exterior trim
The massage-PowerPro®
Lighting
Prolastin ™ -lämpökansi
ProLite ™ Lighting Systems
Exterior lighting
LED floodlit waterfall
Get in touch
Pro Patio Oy is an AAA-rated company specialized in outdoor and indoor pools, swimming pools and hot tubs. Get high quality pools from all sizes and price ranges, from leading manufacturers worldwide. Pool supplies and maintenance are also included in our service offering.
From our extensive range of pools, we will surely also find pools suitable for your needs. Power of water!
Contact details
ADDRESS
Petikontie 20, 01720 Vantaa
STORE & MAINTENANCE